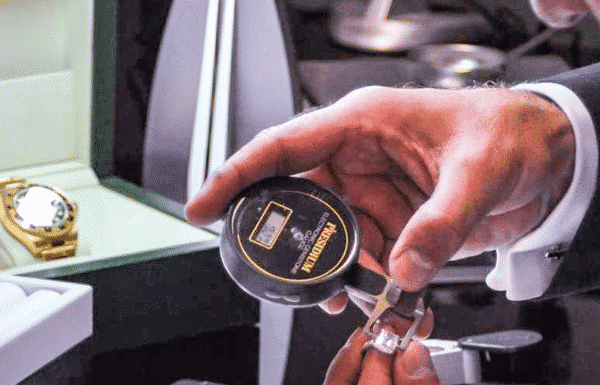 A jewelry appraisal is a procedure that results in a document that defines the object in detail, assesses the quality of the individual aspects, and provides a monetary value to the item in question.
For tax purposes, the fair market value may be stated, while the replacement value (used for insurance purposes) and the liquidation value (used in bankruptcy or business dissolution) may also be included, depending on the purpose of the appraisal.
In addition to having a clear description of the grading procedure, appraisals will be signed or an official seal will be attached by the appraiser, along with any professional credentials they may possess, after they are completed.
But getting your jewelry appraised can be quite difficult if you have less knowledge about the whole process. Moreover, it is more important to learn the places where you can get your jewelry appraised and not get scammed. Here in this article, we will show you the types of jewelry appraisals which are trusted and can provide an accurate jewelry appraisal.
Types of Jewelry Appraisals
When it comes to understanding the quality, specifications, and other attributes inherent to your item, however, an inexpensive one-page jewelry evaluation from a local jeweler may be useful as a pricing guideline and is frequently used to determine insurance replacement value, as well as to assist you in creating an estate or tax plan. As a result, it is not a legally binding document when it comes to jewelry evaluations.
Comparing Appraisal to GIA Lab Report
Your diamond or gemstone jewelry will be graded by the internationally renowned laboratories at the Gemological Institute of America (GIA) or the International Gemological Institute (IGI), which will assess its cut, color, and clarity in addition to its exact size and other characteristics such as brand name, precious metal grade and weight to provide you with a certified lab report that includes detailed information about the metal, diamonds, and gemstones.
The appraiser's assessment of the monetary worth of a diamond is known as an appraisal. Appraisals are not carried out by the GIA. According to the current market pricing and the quality of the diamond, an assessment offers a monetary value to a certain diamond. It is possible for this dollar amount to fluctuate depending on the demand for a certain piece of jewelry or gem.
According to the Gemological Institute of America's (GIA) Grading Report, or Grading Certificate, a diamond's quality may be objectively assessed, and this information is used to determine its worth by appraisers.
There are three main kinds of grading reports established by GIA. These are as follows:
GIA Diamond Grading Report: Apart from the 4Cs of diamonds, the Diamond Grading Report also contains a plotted diagram of the stone's clarity qualities, along with a visual representation of the stone's size, all of which are used to identify the particular stone.
GIA Diamond eReport: In addition to a visual depiction of the diamond's dimensions, the eReport contains a comprehensive face-up photograph of the diamond that was recorded during the grading process. The eReport is available only in digital format and is completely paperless.
GIA Diamond Dossier: The Diamond Dossier, which is available for diamonds weighing between 0.15 and 1.99 carats, is a condensed version of the Gemological Institute of America's Diamond Grading Report. It is also included in this service, is the laser engraving on the diamond's girdle of the diamond's unique report number.
Retail Replacement Value Appraisals or Insurance appraisals
For scrap value purposes, a jeweler or pawn shop, on the other hand, may readily weigh and measure your gold, silver, or common gemstone stones — and provide you with a one-page appraisal of what you possess, along with an estimated market value — for very little money. Although this is not a certified appraisal, it is normally just one page in length and is not legally useful if you find yourself in a dispute over the worth of your property jewelry in the future.
The jewelry appraisal can be found in such locations that are given below:
A reputed jewelry laboratory( Such as IGI or GIA)
Worthy.com is known for being a trusted online jewelry appraisal platform that supplies each item sent in with a copy of a lab report from GIA or IGI, as well as an estimated resale price range – all completely free of charge.
Appraisal Though Fair Market Value
An appraisal of a piece of jewelry, according to the IRS and the United States Department of Treasury, is the same as an appraisal of any other asset (real estate, vehicle, and so on) — it is a reasonable sum you can expect to receive if you sell your jewelry on the open market in a reasonable amount of time. It is the retail market value of a diamond engagement ring that is recently acquired that is considered fair market value. It is not the resale, wholesale, or used jewelry market value that is considered fair market value of the same diamond engagement ring that was just purchased.
When a jeweler does an assessment, it is often for insurance replacement reasons, which is similar to determining fair market value. How much would a new Rolex watch cost at a shop today if you needed to replace your old Rolex watch because it had been lost, stolen, or damaged in a house fire, based on its current position?
However, if you have a used piece of jewelry, you will most likely not be able to sell it for its retail value, but rather for the secondary worth of the stone and metal it contains — around 30 to 50% of the retail value after accounting for the buyer's markup — instead.
Estate Appraisals
Your attorney may be assisting you in arranging your own estate or working through the estate of a loved one, and you may be assessing the worth of different goods for resale or equitably dividing the items among loved ones.
Estates often include valuables such as jewelry, watches, money, cutlery, and gold.
An appraiser will determine the worth of these objects based on their fair market value.